Indian Wedding Videography
Indian weddings are beyond amazing and filming them is no less than a dream coming true. Indian wedding festivities are fun, colorful and full of emotions. We strive to be the top Indian wedding videography production company by creating films that help our couples relive their special day.
Since 2008, we have been filming weddings of all cultures creating videos which last a lifetime. We have experience filming Hindu, Gujarati, Panjabi, South Indian, Sikh, Muslim and many other type of weddings. Your special day deserves to be captured and relived over and over again.
Here at Bliss Wedding Films, our role is to be there with you throughout your wedding, and craft a wedding video that you're happy to watch each and every year.
While we do provide videography for all different types of cultural weddings, we have developed a reputation for our Indian wedding videography. Our team has attended and recorded dozens of Indian weddings, and our understanding of the culture and theme, combined with our interpersonal approach help us create wedding videos that capture the true heart of this amazing event.
We'd love an opportunity to craft a beautiful custom wedding video for your wedding day that you and your loved ones can enjoy now and in the future. True wedding cinematography involves creativity, talent, and a genuine love for weddings. Indian weddings, especially, require an advanced technical skill to capture the colors, emotion, and culture that plays a part in the entire wedding experience.
At Bliss Wedding Films, we create beautiful Indian wedding videos that are:
Personalized – Every video we create is tailored to your personality, your wedding, and your love for each other. No two videos are ever exactly the same, because no two couples are ever the same.
Cinematic – Our goal is to create videos that capture the heart, emotion, and feel of actually being there at the event. Each video is made to tell a story, so that even those that did not attend can imagine how special it was to be there.
Professional – Our experience allows us to create videos that will withstand the tests of time, filmed and edited to be thoroughly professional and clear.
Images extracted from Indian wedding video.
Not long ago, we were given the prestigious "Top 50 Cinematography Studios" award by Wedding Industry Awards, one of the only Indian wedding videography companies to receive such an honor, and one of the few in New Jersey. We can also help with destination weddings, and we'd love an opportunity to get to know you as a couple.
If you haven't yet, please feel free and visit the portfolio to see the passion we put into the work. If you'd like to learn more, or you're ready to tell us about your wedding, please reach out to us.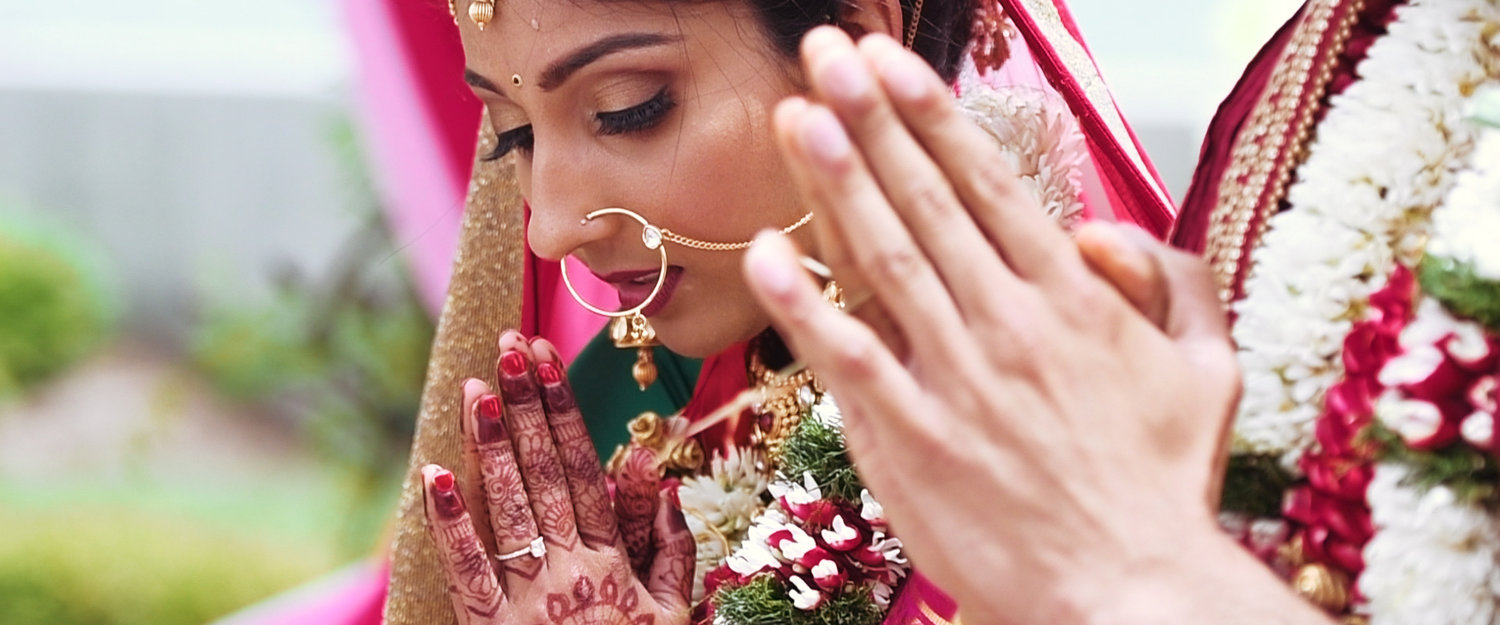 Image extracted from Indian wedding film.